Sir Thomas Mitchell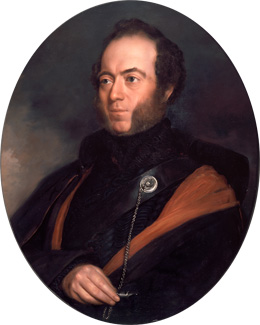 Sir Thomas Livingstone Mitchell (1792–1855), Surveyor-General, was one of Darling Point's most distinguished residents. Born in Scotland, he served as a volunteer in the Peninsular War, where he was engaged in topographical intelligence. He was promoted to Major in 1826 and appointed Surveyor-General of New South Wales in 1828. Between 1831 and 1846 he made four exploring expeditions into the interior of Australia, publishing several accounts of his explorations. He was knighted in 1839.
Mitchell built his home, Carthona, on the water's edge of Darling Point in 1841. The name 'Carthona' is derived from a Spanish phrase meaning 'meeting of the waves'. Gothic in design, Mitchell modelled the house on one in Lake Windemere, England. It was, from the outset, a special home for the Mitchell family, Mitchell himself having carved some of the ornamental stonework and many of the keystones of windows and doors. The house had a fine cedar staircases, lofty ceilings and glorious views to the Harbour. It was in his beloved house that he died on 5 October 1855.
Mitchell's family enjoyed a privileged upbringing, growing up in Darling Point. His youngest daughter Blanche Mitchell kept childhood diaries and notebooks in which she recorded her daily activities and busy social life, giving us a lively picture of what life was like for a girl in fashionable society at the time. Following Mitchell's death in 1855, the family moved to Craigend Terrace, Woolloomooloo. While they were forced to live in reduced circumstances, they maintained their close links to Darling Point society.