The Sunday School Movement
Robert Raikes was the founder of the first Sunday school in England. Established in 1780 for factory children in Gloucester, Raikes was passionately concerned with the need for prison reform and believed that prisons were full of people who had endured deprived childhoods. He believed that education, especially religious instruction, would enable children to avoid the pitfalls of poverty and crime in adult life.
Children between the ages of five and fourteen were encouraged to attend, no matter what the state of their clothes. The Sunday school curriculum largely consisted of simple lessons in reading and spelling in preparation for reading the Bible, memorising Scripture passages and hymns.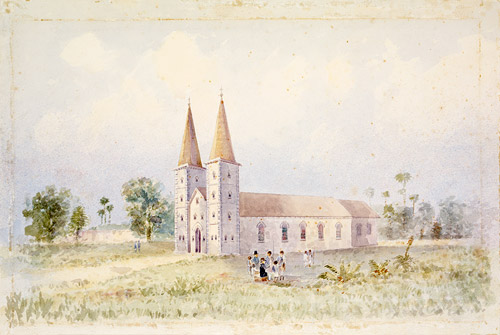 In the early colony of Sydney it was the children of missionary families, the Hassalls and Marsdens who established and taught at the first Sunday school at Parramatta in 1813.
Sunday schools in New South Wales taught reading, writing and arithmetic, alongside spiritual subjects and often children's libraries were attached to the schools. The State Library of NSW holds 2 Sunday school library collections: Bourke St, Darlinghurst Congregational Church Sunday school and St Matthias, Paddington Church of England. These collections represent typical Sunday school lending libraries that were in use in the mid 19th century through to the early 20th century. Most of the items were published by the Religious Tract Society and illustrate the social and religious attitudes of the time.
The inclusion of secular subjects continued until the introduction of the Public Instruction Act of 1880, which initiated compulsory attendance of children at day school. The centenary celebrations were the high tide mark of the Sunday school movement - then the largest youth movement in the world.