Orphan schools
By the late eighteenth century, there were a growing number of orphaned, neglected and destitute children living in the colony, often with no visible means of support. This was a cause for concern amongst clergy and government, who feared for the moral future of the colony. Governor King, who had already established an orphanage on Norfolk Island, opened Sydney's first Female Orphan School in George Street in 1801.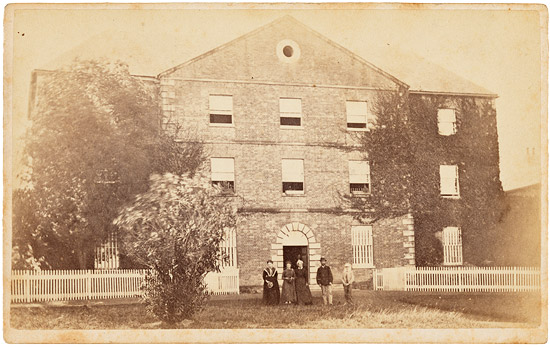 When the Female Orphan School first opened in 1801, it housed 31 girls aged between 7 and 14 years old; by 1803 there were 103 inmates. Governor Macquarie had to build new, larger premises as the demand for places grew. In 1818, the girls were relocated to a new building on Arthur's Hill (now Rydalmere) overlooking Parramatta River, away from the moral turpitude of Sydney Town. The original George Street site became a Male Orphan School in 1819, until they too were moved to a more rural location in Liverpool in 1823.
> See the original roll book for the Male Orphan School, 1819-1848

The children taken into these charitable institutions were housed, fed and cared for, as well as given a basic scholastic and religious education. It was hoped training in religion and industry would improve their moral character and make them more productive adults in society. After several years at the school, the children could be apprenticed out into the community as domestic servants, labourers or tradesmen of various kinds.
> See indentures for boys at the Male Orphan School

The orphanages originally operated under the supervision of a select committee comprising leading members of the clergy (including Reverend Samuel Marsden), government officials and prominent settlers. Funding was raised by donations and public revenue from government. In 1826, the newly formed Clergy and School Lands Corporation took over responsibility for the management of orphan schools, until 1833 when the schools came under control of the Colonial Secretary.
> Find Clergy and School Lands Corporation papers, via the Library's online catalogue

In 1850, the Male and Female Orphan Schools were amalgamated to form the Protestant Orphan School in Parramatta which operated until 1886. A number of other institutions opened for destitute children in Sydney, such as the Randwick Asylum for Destitute Children (1852-1916). However in the 1880s the boarding-out system was introduced in NSW which proved very successful and eventually saw the end of large-scale institutionalized care. This involved fostering orphaned and homeless children into the homes of respectable families under proper supervision, rather than placing them into large public institutions. Some of the families were in rural areas, allowing the children to escape the inner-city. This was a more compassionate way to deal with the social problem of homelessness in the community.