Qantas: Australia's international airline
Qantas (Queensland and Northern Territory Aerial Services) was established in Queensland in 1920 by aviators W. Hudson Fysh and Paul McGinness, with the financial backing of wealthy graziers. The company's first headquarters was in Longreach. The first commercial flights were mail runs between Charleville and Cloncurry in Queensland. During the 1920s, more and more destinations were added to the Qantas routes and in 1929 flights to Brisbane began.
> Read a Qantas brochure and timetable from 1929 for the Brisbane-Camooweal-Normanton air route.


As well as delivering the post, these flights took paying passengers from one town to another. Outback Australians were quick to appreciate the way that planes could cover vast distances in much shorter times than traditional methods of travel and passenger flights became increasingly popular. Qantas moved its headquarters to Brisbane in 1930 and soon afterwards teamed up with British Imperial Airways (later BOAC) to run the Brisbane-Darwin leg of a trial aerial mail link from Australia to England.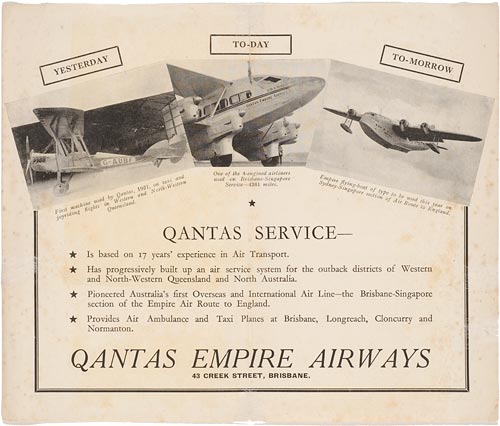 In 1934, Qantas changed its name to Qantas Empire Airways Limited to reflect its new international focus and the next year took over the Brisbane-Singapore mail route. The same year (1935) was the first time that a paying passenger flew overseas. International flights from Australia became increasing popular and by 1937, Qantas Empire Airways was running a flying boat airmail and passenger service from Sydney to Southampton. Passenger and airmail flights continued throughout World War II, with some alterations and restrictions.
> Read a leaflet produced during World War II offering flight information for the Indian Ocean crossing



After the interruption of the Second World War, Qantas offered international travellers in the mid-twentieth century a glamorous, luxurious and fast alternative to weeks at sea. New aircraft meant faster flying times and by 1947, the Kangaroo Route from Sydney to London took just 4 days.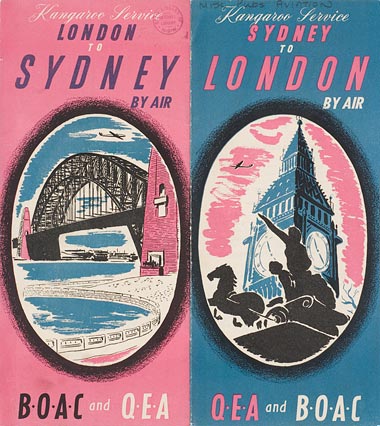 Not only were more Australians venturing overseas, but the short travel time meant that Australia was a real option for wealthy Europeans looking for an exotic holiday destination.
> Read a brochure produced by Qantas to encourage Britons to travel or migrate to Australia

Increasing numbers of first time international flyers meant that Qantas needed to produce publications which explained the basics - the routes, what to pack, menus and entertainment options on board. For many mid-century travellers, a flight was an expensive once-in-a-lifetime experience.
> View a selection of ephemera, including brochures, menus and leaflets, produced by Qantas Empire Airways from the 1930s to the 1950s from a collection at the State Library of NSW.