Hustling Hinkler
Queenslander Bert Hinkler was determined to complete the first solo flight from England to Australia. He was prevented from competing in the 1919 air race by the officials, who thought his proposed solo flight in a Sopwith Dove biplane was too risky. Undeterred, Hinkler made his first attempt a year later in an Avro Baby, but had to abandon the trip in the Middle East.
Still determined, Hinkler eventually acquired an Avro Avian G-EBOV and, on the morning of 7 February 1928, he took off from Croydon, England, with only his wife and two passers-by as witnesses.
Bert Hinkler's 18,000 kilometre journey was not without incident. He was arrested in Rome when he mistakenly landed at night on a military aerodrome. Only the British Consul's intervention saw him on his way the following day.
Hinkler reputedly plotted his course across Asia and the Timor Sea using a London Times Atlas as his navigational chart. Nevertheless, after flying 128 hours in less than 16 days, he arrived in Darwin on 22 February 1928.
Between arriving in Darwin and his landing in Sydney, Hinkler's fame magnified and he was quickly dubbed "Hustling Hinkler', a nickname later immortalised in song. When he arrived in Sydney, on 11 March 1928, a crowd estimated at 80,000 gathered to welcome the hero, singing, 'Hinkler, Hinkler little star, Sixteen days and here you are.'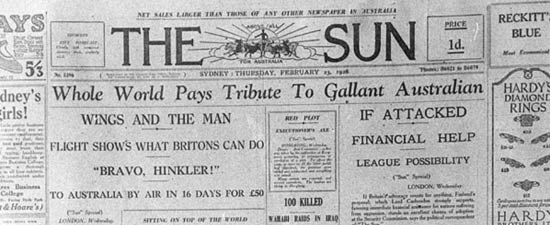 Bert Hinkler's 1928 triumph was much lauded and manufacturers soon exploited the popularity of Australia's new hero. The 'Hinkler' hat became a popular fashion accessory and first appeared on the back cover of a one shilling (ten cents) souvenir publication of Hinkler's flight. He inspired more than seven songs and at least one gastronomic delight.