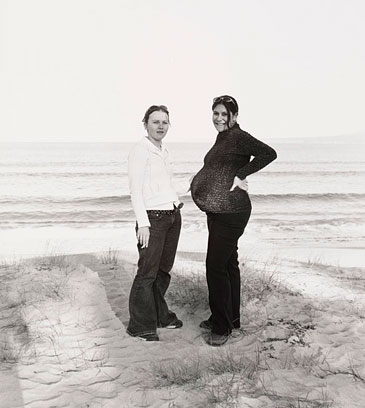 Loran, 16 & Kiakaha, 16, 9 August 2002
Ruth Maddison
Silver gelatin photoprint
PXE 906/2

I'm six months pregnant. I'm excited now but it was a shock at first. When I told Michael, I was ready for him to take off or whatever — I've seen it happen with friends — but so far he's stoked, so we'll see. Mum says I can stay here as long as I want. I want to stay so she can help me & tell me what I'm doing wrong. It's easy to be an immature 16-year-old but I want to do the right thing by the baby. Maybe the singing is all too much to think about now. I don't know what'll happen with school. I've got friends who've had babies & wanted to go back to school but none of them have. My friends are happy for me. I hope no-one does anything stupid. Girls do that. They see the attention you get & want it too.
Kiakaha 14 May 2002
I'm thinking about doing social work because I see things happen to my mates ... Drug abuse, eating disorders, kids not wanting to live. How sad is that, if young kids attempt to kill themselves? Everything seems so hard for teenagers. I'll leave, but I'd like to come back. I'd feel more comfortable raising kids here than in the city. The good thing about cities is how different everyone is & it's no problem. Here if you're different you feel intimidated, & I hate that everyone knows your business. In Eden you become more of a bum as you get older. I'd rather stay home & watch TV now. We've done the party thing — the drugs thing — nothing else to do.
Loran 13 June 2002