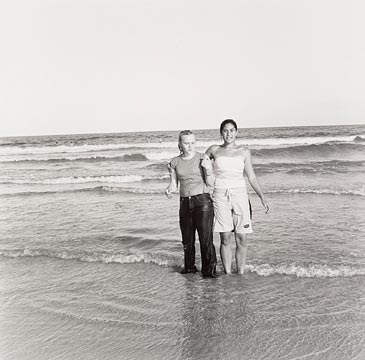 Loran, 14 & Kiakaha, 14, 28 November 2000
Ruth Maddison
Silver gelatin photoprint
PXE 906/1

It was good growing up here but Eden was never in the big picture for me. Too many people go down the tubes. No jobs, drugs too easy to get into, too many teenage pregnancies. There's more to life than staying in Eden & having a baby.
We grew up believing you can become whatever you want to.
I want to go to a performing arts school. I go to Sydney with the Australian choir. I meet people there who are serious about their education & have high expectations. I come back here & it's like … oh well … whatever …
Most of my friend's say Eden's a hole but I think they'll accept living here. A lot of girls stay because their boyfriend wants to stay.
Kiakaha
I want to stay in Eden & get married & have babies, but I feel like I shouldn't say that.
Loran