Seidler's scrapbooks - volume 2 (1957-1962)
This album includes articles relating to Blues Point Tower, Sydney, designed by Harry Seidler. Completed in 1962, it is one of Sydney's most talked-about and controversial high-rise apartment blocks. Newspaper and press articles of the day refer to its planning and development, construction and the subsequent public response.
> View Harry Seidler's complete scrapbook, Vol.2, 1957-1962

Articles include early housing plans for McMahon's Point and the construction of Blues Point Tower: "Experts plan lay-out for McMahon's Point (1957), "McMahon's Point scheme – 20m plan for suburb" (1957), ""Huge block of flats to be built" (1958), "Home unit block to go up 250ft" (1958), "Start made on Australia's tallest block of flats" (1960), "Sky is the limit for Sydney buildings" (1961).
Publicity surrounding the new building was great: "Now…Sydney's greatest home unit building, Blues Point Tower" (1962), "Glamorous yet practical is home unit living at Blues Point Tower" (1962) "Tower units with matchless harbour views" (1962), "Everybody's idea of home units", "26-Storey building gives tenants view of harbour" (1964).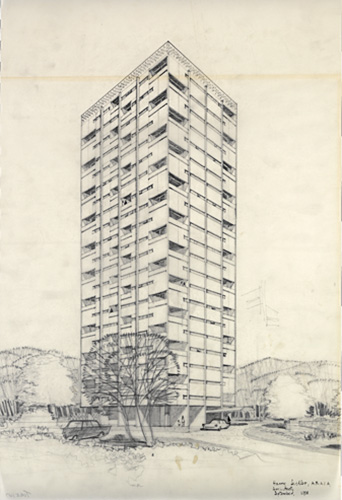 > Find more Harry Seidler collections relating to Blues Point Tower