The commandant and the convict: drawings by James Wallis and Joseph Lycett
Previously unknown, the recent discovery and acquisition of a fascinating album compiled by Captain James Wallis reveals the artistic contributions and working relationship of two key players in late Macquarie era New South Wales: James Wallis (1785? - 1858) and Joseph Lycett (ca. 1775 - 1828).
Captain James Wallis, commandant of the secondary penal settlement at Newcastle from 1816 to 1818, built many of Newcastle's early landmark buildings, and developed an association with convict artist, Joseph Lycett. Originally transported for forgery, Lycett was sent to Newcastle in 1815 after re-offending in Sydney. Their association has, for many years, been one of early Australian colonial art's great attribution puzzles.
In New South Wales in 1819, Wallis published a set of engraved views showcasing New South Wales to the world. This book of views was republished in London in 1821. In both publications Wallis firmly asserted his authorship via a legend beneath the images: 'from an Original Drawing by Capt Wallis'. For almost two hundred years, the original drawings on which the engravings are based were thought to have been lost.
Included in the Library's new Wallis album, however, are original drawings for five of these published views each bearing the inscription: 'Drawn by a Convict'. This clearly establishes Lycett, rather than Wallis, as the artist of the original drawings.
Wallis and Lycett's association extended to other artistic enterprises, notably the Macquarie collector's chests, two of the most beautiful pieces of early 19th century Australiana. Both are held in the collections of the State Library of New South Wales.
The Wallis album includes a watercolour drawing, titled `The Fish of New South Wales', with exactly those varieties of fish depicted in panels for the chests, painted by Lycett.
Four previously unknown drawings by Wallis of Awabakal people from the Newcastle district, as well as portraits of Aboriginal brothers Dick and Burigon (men whom Wallis knew personally), are preserved in the album.
Discovered in Ontario, Canada as part of a deceased estate, the Wallis album was purchased at auction by the State Library of New South Wales in October 2011.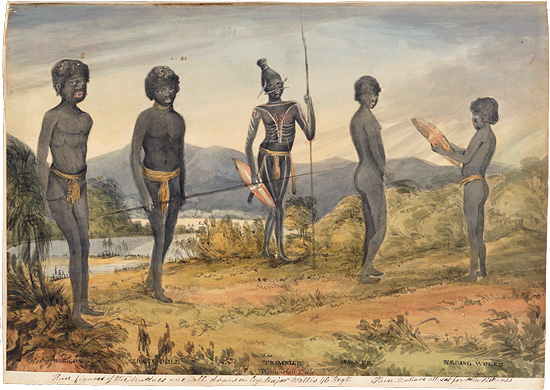 A View of the Cove and Part of Sydney, New South Wales, taken from Dawe's Point, ca. 1818, by Joseph Lycett. Watercolour. From Album of original drawings by James Wallis and Joseph Lycett. PXE 1072