Students and Teachers
National Treasures from Australia's Great Libraries provides a wealth of learning experiences relevant to the school curricula.
Admission to National Treasures from Australia's Great Libraries is free, however to avoid disappointment school groups must contact the Library at least 48 hours prior to their proposed visit in order to book a time. This will ensure manageable numbers in the galleries and that Volunteer Exhibition Hosts are available to assist in making your visit informative and enjoyable. School groups of more than 20 students should stagger their arrival times to admit groups of less than 20 people at 15 minute intervals.
Entry to the National Treasures exhibition is via the Macquarie Wing entrance only. Teachers should approach the Foyer Information Desk on the ground level and ask the staff member there for a key to the locked boxes available free of charge for school bags. All school bags must be stored before entrance to the galleries.
To book your visit please complete a Schools Booking Form. Bookings are not confirmed until you receive verification from the State Library of NSW.
Facilities for people with disabilities are available. Please call in advance to arrange any special access requirements.
Full-colour book of the exhibition available for $34.95 from the Library Shop located in the Macquarie Street wing, or The Library Shop online.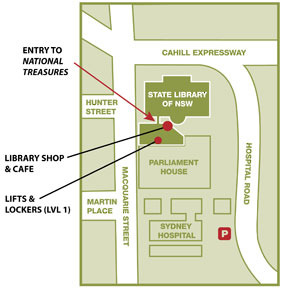 For information on additional State Library of NSW opportunities for school visits see the Nelson Meers Foundation Heritage Collection exhibition.