Henriette Lamotte Pty Ltd
French designer Henriette Lamotte, or Countess d'Espinay, was one of Sydney's leading milliners from the early 1950s until the 1970s. Her exquisite hat designs were highly sought after by the city's most fashionable and well-dressed women, as well as overseas visitors.
Born in Nantes in the province of Brittany, Lamotte trained and worked as a milliner in Paris before arriving in Sydney with her husband Comte Jean d'Espinay in 1938. A real-life countess, she traded under her maiden name and opened a number of millinery salons, selling her own designs and imported hats from Paris.
This image viewer requires a web browser with the Flash plugin and JavaScript enabled.
Get the latest Flash player .
In the early 1950s, Henriette Lamotte operated in Rowe Street, Sydney's bohemian quarter, amongst coffee lounges, fashion boutiques and galleries. She moved to a salon in the St. James Building, Elizabeth Street, in 1956. By 1969 she had opened a larger millinery salon and boutique in Double Bay, selling fashionable attire as well as her famous hats. Her sumptuous salons with lush interiors, including elegant sofas and mirror hung walls, complemented her exquisite millinery creations.
Her clients were the rich, the famous and the fashionable who sought hats for their elegant daywear or glamorous 'after-five' cocktail parties, dinners and balls. For women of the day, hats were an "essential part of a smart outfit" (Daily Mirror, 25 May 1961). "Lamotte is a name that no woman seeking a well-dressed title can afford to ignore – provided of course, her husband can afford to pay for it!" ('Our Hat Dictators', Smiths Weekly, 18 February 1950).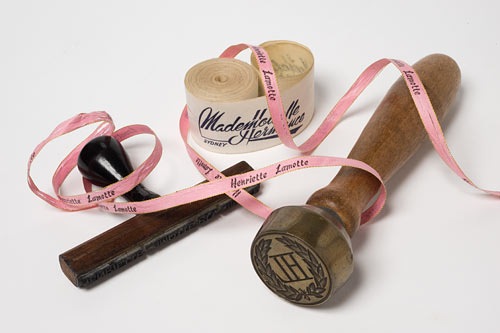 Business stamps and ribbons, belonging to Henriette Lamotte Pty Ltd
, ca. 1950-1970. Realia. R870
Lamotte also collaborated with leading haute couture fashion designers of the day such as Germaine Rocher and Madame Pellier. In addition to her own exclusive hat designs, she manufactured a more affordable range under the name 'Mademoiselle Hermance' available through department stores. In 1952, she contributed to the light-hearted French cookery book Oh, for a French Wife which featured recipes and advice from well-known French society 'wives'.
A well-known Sydney identity, Lamotte charmed everyone with her vivacious personality and sophisticated French background. She was a successful designer, businesswoman, author and one-time actress, who brought colour, glamour and 'A little bit of Paris' to Sydney social life.
The Library's Henriette Lamotte collection, 1935-1975, includes business records, scrapbooks, design and fabric sample books, correspondence, photographs and realia, which provide an insight into this enigmatic and fascinating businesswoman.
> Read a selection of newscuttings from Henriette Lamotte scrapbooks

> See an invitation to one of Henriette Lamotte's glamorous fashion shows

> View Library catalogue entry for Henriette Lamotte Pty Ltd – records, 1935-1975