Soldier of the King
'And now I believe I shall remain a Soldier for Life'.
Lachlan Macquarie, 1800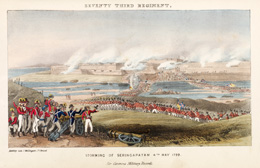 Storming of Seringapatam
Lachlan Macquarie joined the British Army in 1776 as a volunteer and was commissioned an ensign the following year. After serving in Canada, America and Jamaica on garrison duty, he was posted to India, in 1788. By the end of the year Macquarie had been promoted to captain.
In 1793 he married Jane Jarvis, but to his profound grief she died of tuberculosis three years later.
In 1801 Macquarie joined the British Forces campaigning against the French in Egypt. During a visit to England in 1803 he was appointed Assistant Adjutant-General of the London District.
On returning to Bombay in 1805 he learned that he had been promoted to the lieutenant-colonelcy of the 73rd Regiment. After further service in India he returned to England in 1807 to marry a distant cousin, Elizabeth Campbell of Airds.
To listen to an audio recording, click the

play button. To download the file to your desktop, right-click the title link and choose Save Target As...