Bib and Bub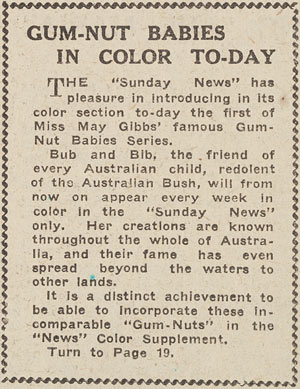 Sunday News, 3 August 1924. Newspaper advertisement. BN 270
Bub and Bib, the friend of every Australian child, redolent of the Australian Bush, will from now on appear every week in color in the "Sunday News" only. (Sunday News, 3 August 1924, p.1).
May Gibbs' popular cartoon strip, Bib and Bub, first appeared in the Sunday News on 3 August 1924. A front page advertisement in that edition announced "Gum-nut Babies in Color To-day".
For the initial sum of five pounds per week, Gibbs was to supply a half page cartoon strip each week. The cartoons featured her familiar gumnut characters and humour, combined with small lessons in life for her young audience. Originally, the captions were in her distinctive scribbly-gum writing, although they were later typeset to improve legibility. Her cartoons incorporated topical themes, as well as ideas adapted from previous works.
Bib and Bub was Australia's longest-running comic strip, continuing until 1967.
The strip proved a financial success as well as a popular one. Syndicated to newspapers across Australia and in New Zealand, the cartoons appeared in the Adelaide Mail, New Zealand Herald, the Melbourne Star, several Queensland newspapers and the Daily News in her hometown of Perth. Between 1925 and 1929 Angus & Robertson published five Bib and Bub cartoon books, and a Bib and Bub painting book was also produced in 1932.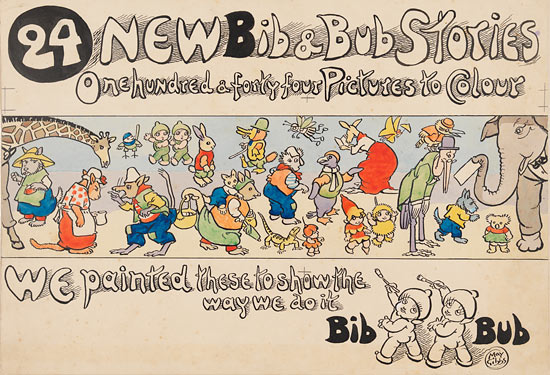 > Find more Bib & Bub cartoons as part of the May Gibbs papers, via the Library's online catalogue