Thomas Livingstone Mitchell: mapmaker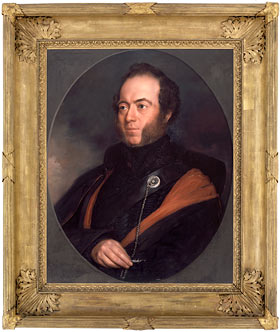 [Sir Thomas Livingstone Mitchell], c. 1830s
oil painting, ML 24
Sir Thomas Livingstone Mitchell was Surveyor-General of New South Wales from 1828 to his death in 1855. A larger-than-life character whose passions included the study of fossils, poetry and the mechanical and scientific arts, Mitchell looms large in Australian colonial history.
Explorer, surveyor, road-builder and mapmaker, the story of his extraordinary life and work is revealed through the collections of the State Library of NSW.
Mitchell's maps, personal papers and artworks reflect his wide-ranging interests. His Peninsular War maps are housed in the Dixson Maps collection, while his delicate, detailed sketches, watercolours and personal papers are held in the Mitchell Library's Pictures and Manuscript collections.
With thanks to the generous support of the Institution of Surveyors NSW Inc - Seniors Group, we have been able to digitise the Library's collection of maps created by Sir Thomas Mitchell. A selection of these are displayed in this online collection and the complete digitised collection is accessible via the Library's catalogue.
> Follow Mitchell's important expeditions through his maps

> See Mitchell's surveys of the roads we use today

> View Mitchell's maps of Sydney

Original survey drawings, panoramic outlines and other sketches by Thomas Mitchell can be seen in Illustrations from Progress in Public Works & Roads in NSW 1827-1855.