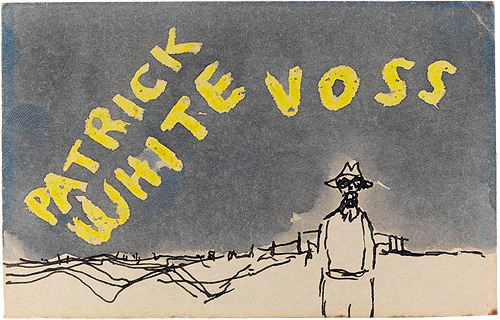 Book jacket design for Voss, 1957
Sidney Nolan
Ink, wash, wax crayon, pen and ink on card
ML 743

Patrick White's sense that he and Sidney Nolan were exploring the same territory led him, in 1957, to ask the artist to design a jacket for his novel Voss. In 1958 White asked Nolan to do a cover for The Aunt's Story. Asked for a jacket design for Riders in the Chariot in 1961, Nolan told White's publishers to select something suitable from his studio. Another Nolan design was used for the Penguin paperback edition of The Aunt's Story in 1963. The works commemorate the collaboration and friendship between Patrick White and Sidney Nolan who, at his death in 1992, was Australia's most internationally celebrated artist. Patrick White, Australia's only Nobel Prize laureate for Literature, died in 1990.
Display period: January to December 2007