2006 Winner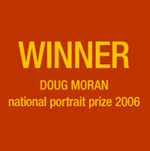 The winner of the 2006 Doug Moran National Portrait Prize is Peter Wegner - Wounded Poet 2006.
'Peter Wegner's winning entry was the spontaneous and unanimous choice of the two judges who were impressed by its honesty, painterly skill, sure construction and, above all, the compelling presence of the subject in the portrait,' Mr Andrew Sayers said on behalf of both judges.

The portrait depicts the poet Graham Doyle, who has been the subject of up to 100 portraits painted by this Melbourne artist throughout their friendship since the early 1980s.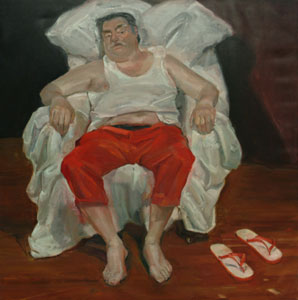 Peter Wegner - Wounded Poet 2006
The judges highly commended the following portraits:
Ann Cape - Elizabeth Cummings
Yvette Coppersmith - Korolevna
Greg Creek - Seeing Carolyn Eskdale
Chris Hall - Jane, undecided
Jiawei Shen - Daughter