Illustrated Iberian
'This paper is not intended to touch matters and topics foreign to our voyage, but rather to cement the good feeling that every one seems desirous of cultivating' - Illustrated Iberian, 910.42/2
The Illustrated Iberian was published at sea on the S.S. Iberia and reprinted in Sydney. Issued weekly, the newspaper included the ship's log and the editor's witty accounts as well as sporting results, poetry and prose, fashion, correspondence and sketches of scenery and passengers.
Heavy on puns, the Illustrated Iberian included numerous plays on the word 'Iberian' including the drawing of an 'eye-berian' on the masthead and naming the editor, 'I, Berryun, Esq.'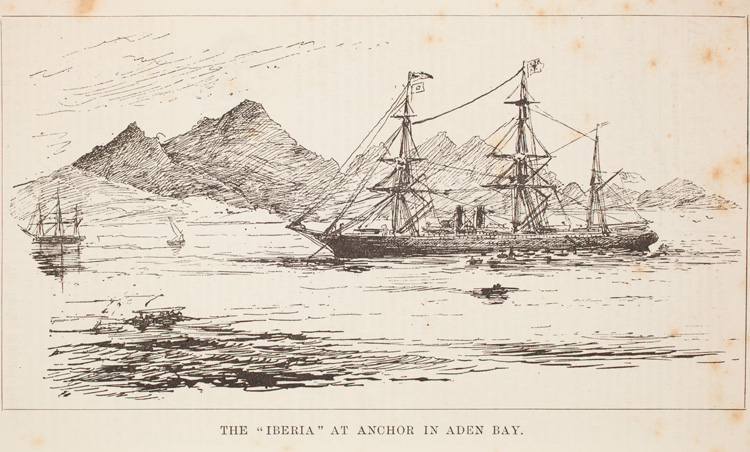 Detail, 'The "Iberia" at anchor in Aden Bay', from the Illustrated Iberian, 1887. [At sea] : the Illustrated Iberian Company, Limited on Board the S.S. "Iberia", 1887. Shipboard newspaper. 910.42/2 p. 15
Illustrated by Edmond le Bihan, A.H. Wall and A. Wall, the newpaper included caricatures, sketches and stories such as the comic 'Adventures of Mr Jones' which depicted Mr Jones coming aboard, losing his chair, going on shore, and experiencing the many trials and tribulations endured by passengers on the voyage to Australia.


> Read the Illustrated Iberian via the Library's online catalogue