Education and Welfare
Macquarie regarded education as a means of overcoming poverty and social disadvantage by producing useful members of society. Shortly after arriving, he founded the first public charity school in Sydney. By 1821, with his support, 15 schools had been established in Sydney and its outlying districts.
Improving moral and social welfare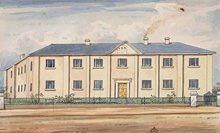 Benevolent asylum, c. 1840–1850
Improving the manners, morals and spiritual wellbeing of colonists was a priority for Macquarie. He built churches in the principal towns and supported the Bible Society in its work of distributing the Scriptures to the poor. He welcomed the spread of the Sunday School movement, whose Sunday classes provided a basic secular education as well as a spiritual one.
His social welfare program included male and female orphan institutions. In 1818 the Benevolent Society of NSW was formed under his patronage.
Three years later the Benevolent Asylum was opened at government expense to provide accommodation for the aged, infirm, blind and destitute.
To listen to an audio recording, click the

play button. To download the file to your desktop, right-click the title link and choose Save Target As...