Extending the boundaries
'It having long been deemed an object of great importance to His Excellency the Governor, to ascertain what resources this colony might possess in the interior, beyond the present known and circumscribed limits…'
Government & General Order, 1814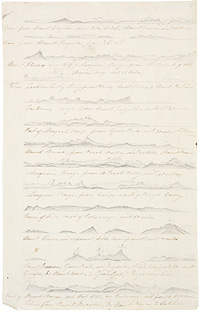 Profiles of ranges in NSW
along Oxley's route in 1817
Macquarie saw the need to expand the colony for future growth. Prior to his appointment there had been little official sponsorship of exploration and settlement was mainly confined to a coastal strip bounded by the Hawkesbury River to the north and the Cowpastures to the south, and the Blue Mountains to the west.
In 1813 Gregory Blaxland, accompanied by William Charles Wentworth and William Lawson, pioneered a route across the mountains to the interior. On Macquarie's instructions, George William Evans followed up this discovery by exploring a route to the fertile plains – traditional Wiradjuri country – beyond the Dividing Range. In 1817 and 1818 Macquarie dispatched John Oxley on expeditions to explore the plains and rivers to the north and north-west. Expansion to the south was made possible by the expeditions of Charles Throsby and James Meehan. Much of the Australian coastline was charted by Phillip Parker King.
Of course, Aboriginal people view this expansion differently. It was the displacement from their traditional lands which had such a devastating impact on Aboriginal communities.
To listen to an audio recording, click the

play button. To download the file to your desktop, right-click the title link and choose Save Target As...