Closing the Gap, 1995

Striking landscape painting by Jane Bennett
Closing the Gap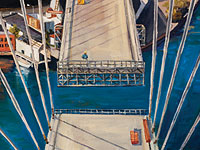 Perched near the top of the western tower of ANZAC Bridge where she painted this work, Jane Bennett has captured a commanding view east across Pyrmont towards the city. Recording the closure of the two sides of the bridge in July 1995, Bennett's painting also documents the state of development of Pyrmont at the time, now already significantly changed.
The work of Sydney artist Jane Bennett (b. 1960) focuses on the industrial, almost underbelly side of Sydney. She documents disappearing industrial heritage and working harbour sites as traditional industries decline, capturing scenes of rapidly transforming urban landscapes.
Bennett began painting Pyrmont in the early 1980s and has continued to record its change and development with an increasing sense of purpose. At first isolated images, her Pyrmont work has developed into an extensive narrative sequence of the abandonment, decay, destruction and reconstruction of an inner-city suburb.
The acquisition of this painting continues the Library's tradition of collecting works of art for their documentary value.
Display item Closing the Gap, 1995
< Previous Exhibit | Back to The Exhibits page | Next Exhibit >