The Governor Brothers
The Governor family lived in the Gresford, Paterson and Vacy areas but were moved onto the reserve system along with other Aboriginal families in the early 1890s.
Tommy Governor and his sons, Joe and Jimmy worked on several stations along the Paterson River and Allynbrook, including that belonging to the Boydell family. The Governors worked as cattlemen and as horse-breakers.
In 1896, Jimmy enlisted as a tracker with the New South Wales mounted police. He was stationed at Cassilis Police station for a year before he left, apparently frustrated by the lack of advancement and dissatisfaction with his colleagues.
In December 1898, he married 16 year old Ethel Page at a time when marriage between an Aboriginal man and a white woman was seen as very controversial. The couple moved to Breelong in the Gilgandra region and Jimmy worked as a fencing contractor for John Mawbey.
Ethel worked as a house maid for the Mawbey family, however she was never paid for this work. Instead, they relied on rations from the Mawbeys. Dissatisfaction regarding rations, payments and slurs on their interracial marriage created tensions which came to a head on the night of 20 July, 1900.
Jimmy decided to face John Mawbey and try to settle his grievances, taking along his wife Ethel, his brother Joe and friend Jack Underwood. Negotiation with John Mawbey over rations was resolved peacefully, however Jimmy then decided to confront Mrs Mawbey and the family's teacher, Ellen Kerz over their treatment of Ethel. Jimmy's evidence given at his trial regarding that night stated that the women had insulted him, saying, 'You want shooting for marrying a white woman…With that I hit her with my hand in the jaw and knocked her down. Then I got annoyed and I did not know nothing after that.'
Mrs Mawbey was struck violently, dying three days later. While son Percy was also struck down, the teacher, Ellen, along with girls Grace and Hilda escaped out of a window. They were not fast enough and Jimmy caught up to them and fatally assaulted them with a weapon described as a nullah or boondi.
The Breelong massacre, as the event came to be known, was swift and violent, five people were killed and one seriously wounded.
A number of stories and ballads were composed about the event, which reflect some of the social attitudes held at the time about Aboriginal people.
The news of the murder of the Mawbey family spread quickly through the region and the hunt was on to capture the Governor brothers and Underwood. Ethel fled to Dubbo with her baby as parties of armed civilians gathered for the search. Underwood was captured quickly, however the Governor brothers remained on the run for three months. This became the largest manhunt in Australia's history, ranging across 3000 kilometres of northern New South Wales and involved around 2000 civilians and police in tracking the brothers.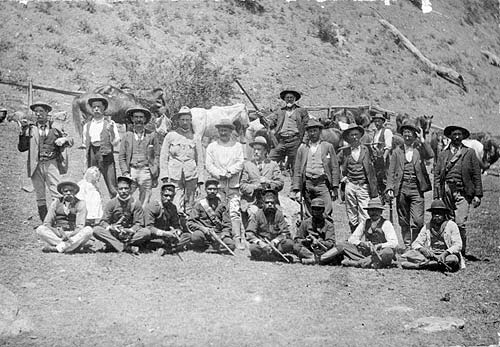 Jimmy Governor set about taking revenge on his enemies and travelled along the Goulburn River in the area of Wollar to settle old scores, mainly with men he had worked for who he believed had treated him badly. Most of these people had been warned of Jimmy's intentions and had abandoned their houses.